Welcome to the Climate and Health Alliance
NEW GLOBAL CLIMATE AND HEALTH POLICY REPORT 
The Climate and Health Alliance (CAHA) is pleased to share this report from a world-first global survey on climate and health policy led by CAHA, Public Health Association of Australia (PHAA), Health Care Without Harm (HCWH), World Medical Association (WMA), and WFPHA Environment Work Group, on behalf of the World Federation of Public Health Associations (WFPHA) .
UPCOMING EVENTS
People's Climate March

27, 28, 29 November 2015
As global leaders gather in Paris for the global climate talks, join us and sign up to the People's Climate March near you! Join thousands of Australians on November 27-29 as we march in cities across the nation, showing we want a healthy environment and a safe climate. Sign up to the CAHA newsletter (above, right) for updates!
Seminar in Paris: Global Health and Climate Summit (GHCA)

Saturday 5 December 2015, Paris
A high-profile all day summit in the heart of Paris during COP21. Or- ganized by the Global Climate and Health Alliance in conjunction with WHO. This builds on the Global Climate and Health Alliance's previous successes having regularly hosted summits parallel to the climate negotiations in Durban, Lima and Warsaw and a series of other events. Speakers have included Ministers of Health, the US Surgeon General, the Editor-In-Chief of the Lancet, leading WHO officials, the Vice Presi- dent of the World Bank and the Chief of Staff of the UNFCCC. CAHA is a founding member of the Global Climate and Health Alliance.

Where: Marriott Rive Gauche Hotel, 17 Boulevard Saint-Jacques, 75014 Paris, France75014 Paris, France
When: 0800 – 0900 Registration, 0900 – 1700 Academic programme, 5 December 2015
Cost: FREE
NEWS & MEDIA
2015 Lancet Commission on Health and Climate Change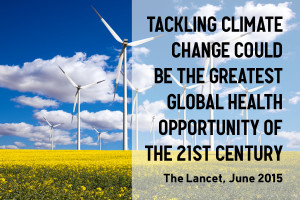 This report, published in the international medical journal The Lancet, updates and builds on the ground breaking UCL-Lancet Commission published in 2009 when climate change was first described as the "biggest global health threat of the 21st century".
The 2015 Commission brings together more than 60 international experts as a new commission to respond to climate change. "Given the potential of climate change to reverse the health gains from economic development, and the health co-benefi ts that accrue from actions for a sustainable economy, tackling climate change could be the greatest global health opportunity of this century" – The Lancet Commission 2015.
For more information, see CAHA Media Release and Climate Health Commission
Unprecedented alliance calls for zero pollution in Australia 

In an open letter to all Australian Parliamentarians, an unprecedented alliance of 51 health, environment, legal, aid, union, farming, and religious groups state have called for all parliamentarians to commit to strong emissions reduction targets.
Download the media release here, and read the Open Letter here.
NEW CLIMATE CAMPAIGN KICKS OFF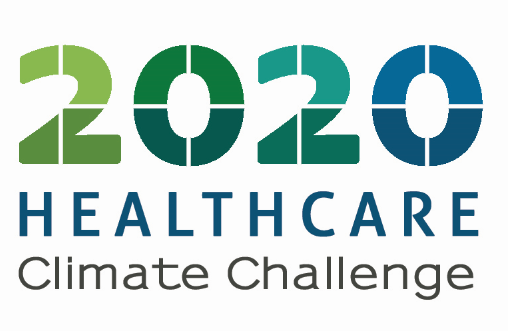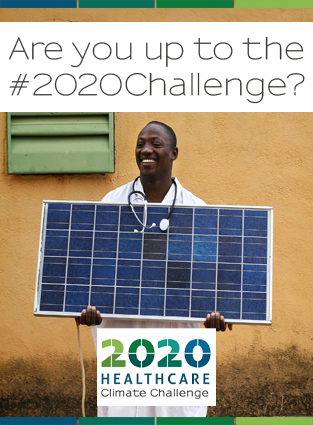 The 2020 Health Care Climate Challenge is underway! A new campaign to mobilise hospitals and health centres to commit to 2020 emissions reduction targets has kicked off globally.
For more information, including how to sign up your facility, follow this link.
NOW SCREENING

A new short film,'The Human Cost of Power',  has been released by the Climate and Health Alliance and Public Health Association of Australia.The film explores the health and climate impacts associated with the massive expansion of coal and unconventional gas in Australia. Click here to see the film on YouTube.  For a copy of the film for a screening in your community or workplace, contact CAHA Convenor Fiona Armstrong convenor@caha.org.au.
RECENT
REP
ORTS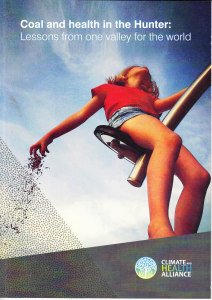 This new report, Coal and Health in the Hunter: Lessons from one valley for the world, provides an insight into the evidence of the harm – local, national, and global – from coal production in the Hunter Valley in New South Wales, Australia.
The report reveals there is serious adverse impacts to physical and psychological health associated with coal mining, transportation and production, and estimates there is millions of dollars in health damages associated with air pollution from coal sources in the Hunter and billions of dollars per annum associated with the social costs of carbon from Hunter Valley coal.
To download the full Report, Recommendations for Action, Summary for Policymakers, Case Studies, Infographics and Videos – see http://caha.org.au/projects/hunter-coal/
RESOURCES
New Tool for Sustainable Healthcare
This new tool is available FREE for hospitals and healthcare settings globally.
GGHH has been developed by the Climate and Health Alliance's  international partner, Health Care Without Harm. 
This network is built around a framework known as the Global Green and Healthy Hospitals Agenda, a new tool for health care settings around the world to reduce the environmental footprint of the health sector to improve public environmental health and save money.
For more information, see www.greenhospitals.net or contact CAHA at info@caha.org.au